Sofa Insights from an Interior Designer
Sectional sofas have enjoyed a long period of popularity as an interior design element. Their popularity spiked when chain furniture stores began foisting the concept on customers as a quick fix. The piece does provide an easy, and often least expensive, solution to a seating problem – put one in a room and three-quarters of your seating needs are resolved with one piece of furniture. But filling seats is not the best reason for choosing such a large furniture piece.
When should you choose a sectional sofa over other options?
At Ireko we believe a room has to have certain requirements to accommodate a sectional sofa. You might be surprised to learn that having a home with a great room, or a family room with high ceilings, does not influence whether or not we'd choose a sectional couch as part of our designs.
We would not omit the piece outright in an interior design — a leather sectional sofa, for example, can be glorious in certain rooms. For us, the requirement that matters is the stylistic one. Space planning is key to serving the style, but we have found that a room dictates what it needs and size does not matter — style does.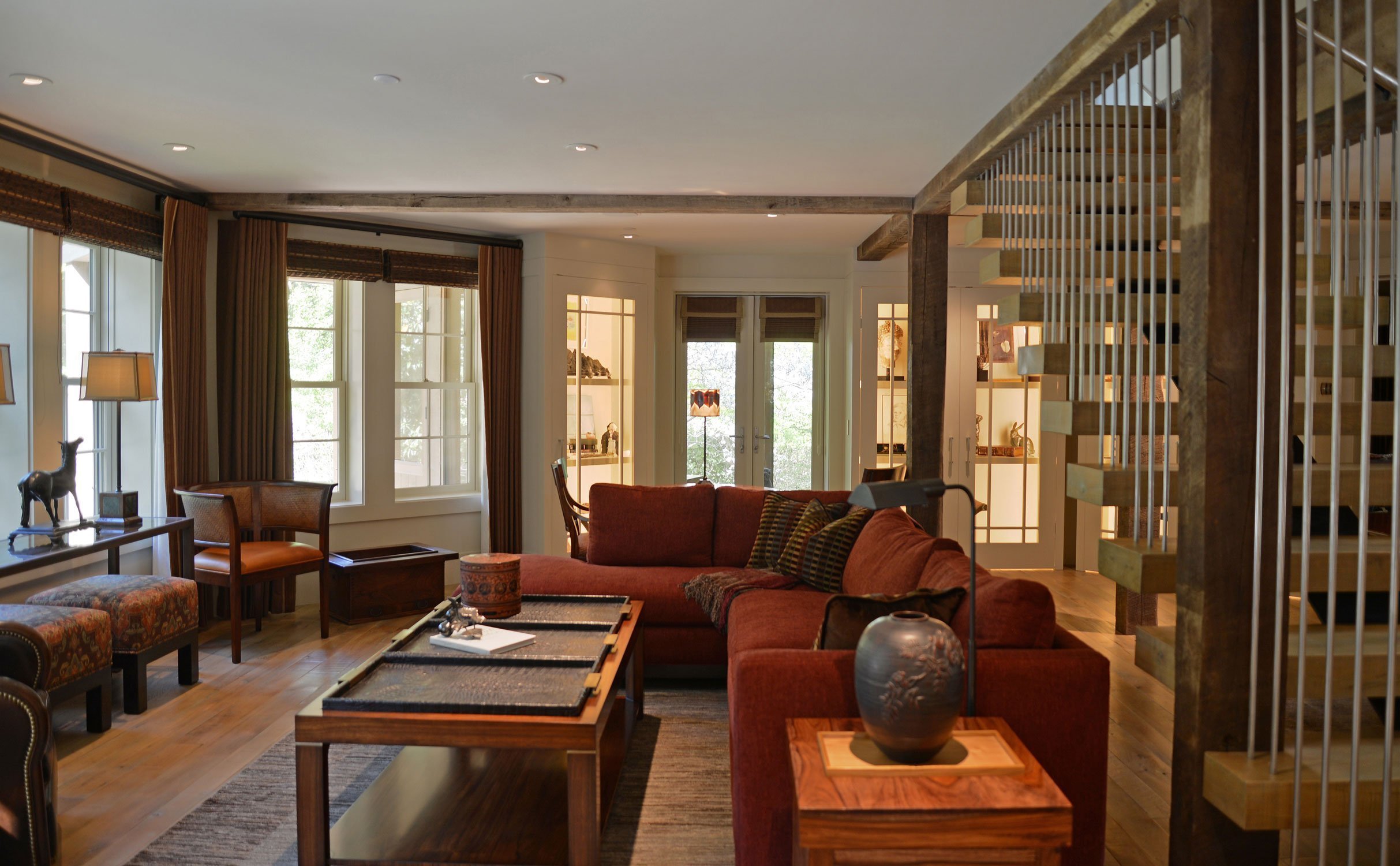 An example of a lovely sectional sofa we placed in the living room of the historic Frick House. Despite limited floor space, the style we conceived, and the room itself, made this sectional the right choice.
Photo Credit: Richard Perlstein and Jared Polsky of Polsky Perlstein Architects
Interior Design Style Matters
When we develop an interior design, we think about what works best stylistically. The resurgence of the modernist movement, in particular Mid-Century Modern, has lead to more interest in contemporary interior designs, where the end result is clean, quiet elegance.
Modern Designs Lend Themselves to Sectional Sofas
And because contemporary designs lend themselves to inclusion of a sectional sofa, such as the recent sectionals designed by Rene Cazares (RC Furniture), seen here, then stylistically, a sectional sofa would be at the top of the list of furniture pieces we would consider for a client that wants a modern look.
Traditional Style Calls For Careful Consideration
However, if the style of the room, or the home itself, is more traditional, or from a particular period, we would be more careful in using the piece. For example, if a client is considering a European Country Antique look, a sectional sofa would not work well, nor would, say a mix of modern and Asian antiques necessarily call for use of a sectional sofa, from a stylistic point of view.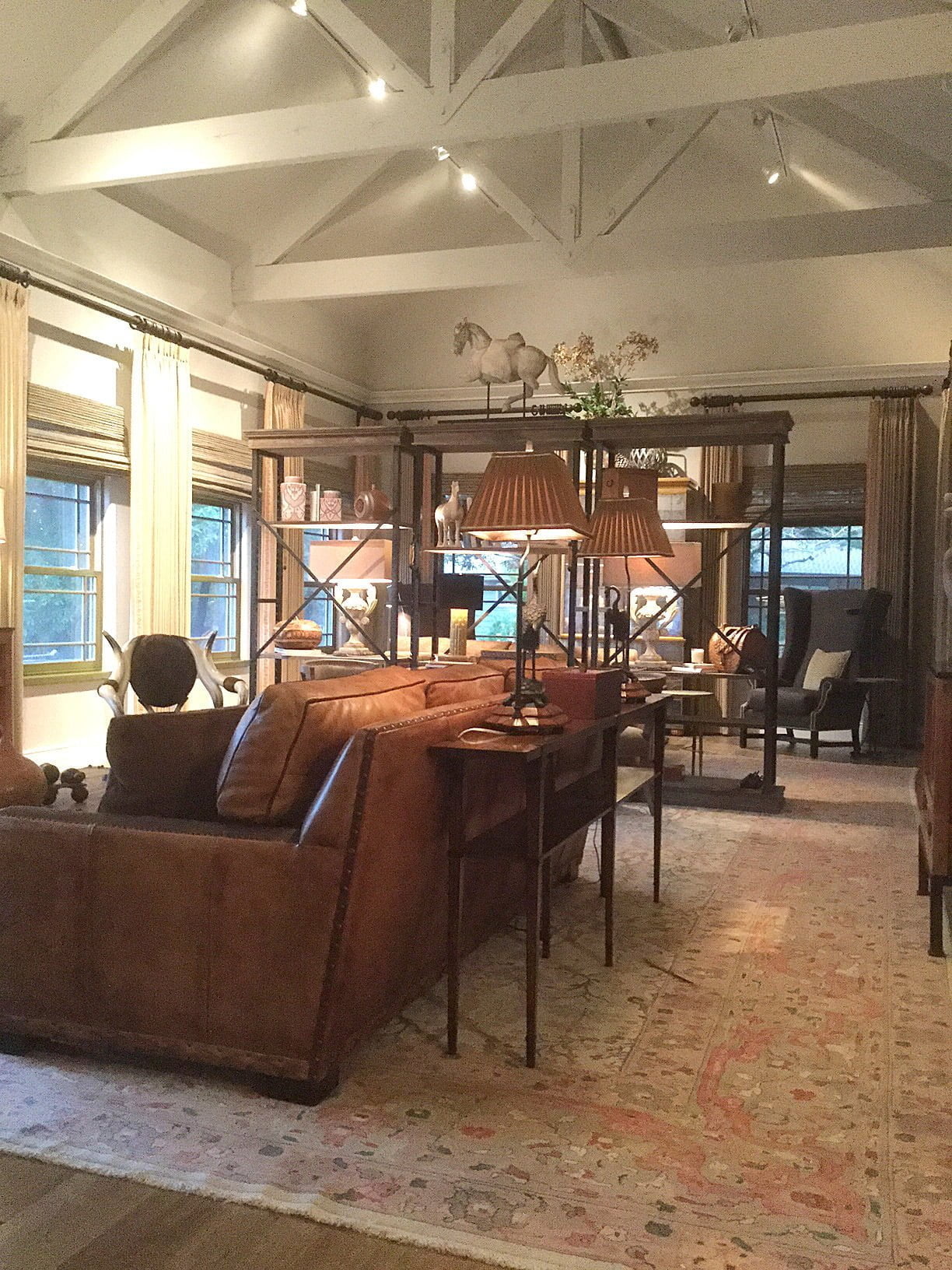 Healdsburg Home Living Room
Let the Room Speak
In our more than 30 years in interior design we have found that certain pieces, including furniture, just seem to ask to be in certain rooms. When a sectional asks to be in a room we're designing, we will also take into account other elements that impact our design decisions, such as:
Intended Use: Is the sectional an element for a media room and mainly for TV viewing, or for entertaining?
Traffic Patterns: Where do clients enter the room and where are the walking areas? This affects whether a sectional should have arms at both ends, for example, or perhaps whether the room allows for a chaise on one side.
Amount of Available Floor Space: Although this will be fairly apparent for say, a great room.
Placement of Sofa: A crucial element to the interior design that is sometimes impacted by traffic patterns.
Additional Needs for the Room: Clients may want a desk, for example, so can the room also accommodate a sectional?
Upholstery Fabric and Color Choice: Leather sectional sofas often are a better choice for higher traffic rooms versus upholstered sectionals for less frequently used rooms.*
Budget: Our suppliers have a wide range of prices to make a sectional sofa possible for most budgets.
What we also remind our clients, however, is that even when a sectional couch would work in a given room, so too could a love seat and sofa combination. Either choice achieves the same amount of seating area. And for some rooms, the love seat and sofa combination can be a more flexible choice for clients who like to be able to move furniture about.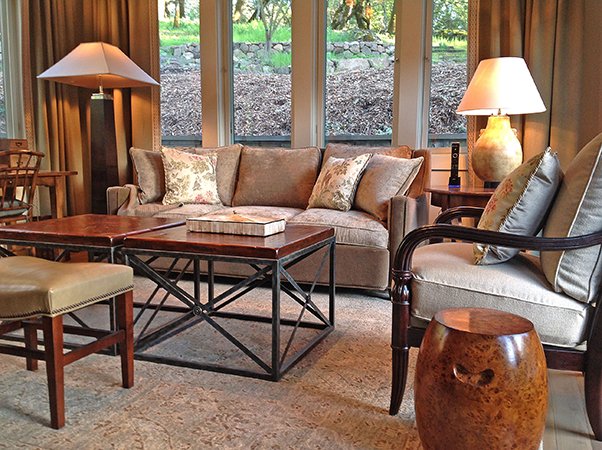 Wine Country Home Living Room
When a Sectional Sofa Becomes the Right Choice
When we sit down with clients who have envisioned a sectional sofa as part of the interior design, and stylistically, it will work, the remaining question to address is scale.
Ten years ago, sectionals were hugely over-scale and not an attractive choice, despite the amount of sofas of this type that were sold. Bigger houses with bigger spaces to fill also added to the sectional sofa's rise as a popular choice for many rooms, which in turn led to the furniture industry churning out the product in greater numbers to fill consumer demand. When these sectional sofas first starting appearing in new homes, their sheer scale often made it impossible to fit any other furniture in a room, or had the affect of turning a great room into a small one. From an interior designer's perspective, this made them less ideal for many rooms.
The Sectional Sofa Evolution
The intended or unintended push from furniture stores did have a positive effect. It lead the furniture industry to the point at which we find ourselves today, because sectionals have evolved. Our suppliers offer sectional sofas that are hundreds of times more attractive, with sleeker looks that are simpler and cleaner.
And today's sectional couches also offer multiple configuration options, making them more flexible for use in different rooms, in scales that doesn't overpower them. The upholstery options with remarkable fabric collections and no lack of range in pricing has also made sectionals a more desirable choice. The sectional vs sofa evolution allows interior designers to create designs that impact the whole room, because one piece does not make the room… you only have to ask the room…
Learn More About Our Interior Design Resources
Contact us today at (707) 579-3700 or complete our website contact form. We'd love to help you choose the right pieces for your home.
[gravityform id="1″ title="true" description="true"]
Originally published January 22, 2015